Mark Helprin may be a gifted writer, but his column in the Sunday Post proves that he should be kept as far away from defense policy as possible:
This has led the United States unwittingly to encourage China to move toward nuclear parity. In the next five years, as we reduce our arsenal from 10,000 strategic warheads to 1,700, China's MIRV'd silo-based missiles and imminent generations of MIRV'd mobile and sea-based ICBMs will easily allow a breakout from warhead numbers now variously estimated to range from 80 to 1,800.

Once, the vast imbalance (in 1987, 500:1) might have discouraged China from such augmentation, but no longer. Our reductions and their growth provide fewer targets for more missiles and will create the possibility and therefore the temptation, however remote, of a first strike. As we have cut the stable sea-based leg of our nuclear deterrent from 37 ballistic missile submarines to 14, China works to build its own and a fleet that can provide protected bastions at sea as well as hunt down the small number of American boats on station.
All of the recent U.S. government estimates of the Chinese nuclear arsenal that I've seen generally place it between 100 and 200 warheads (FAS has a nice summary of government estimates located here). I don't know where this 1,800 warheads number comes from, but it definitely doesn't come from the intelligence community.
I also don't know where Helprin is getting his data on Chinese missiles being equipped with multiple warheads, but that generally isn't believed to be the case. Even if it were true, it would mean a vast reduction in the explosive power of the Chinese arsenal. The intelligence community believes that current single warhead on China's silo-based DF-5 has about 4 megatons of explosive power. If China were to MIRV the DF-5 with 3 250 kiloton warheads, it would actually reduce the overall power of the missile by 80%. The same thing happened to our land-based missiles when the U.S. switched from the Atlas (4 megaton warhead) and Titan (9 megaton warhead) to the Minuteman (3 300-400 kiloton warheads).
The U.S. compensated for this loss of explosive power by simply building more of the MIRVed missiles. Our land-based part of the arsenal went from about 100 Titan and 30 Atlas ICBMs in the 1960s to 500 Minuteman ICBMs by the 1980s. I'm not aware of any public reporting that bear out an increase in Chinese ICBMs that would be commensurate with the introduction of MIRVs into their arsenal.
As for nuclear submarines, China doesn't really pose much of a threat here either. They fielded two 12-missile Xia class submarines, but one hasn't ventured far from Chinese waters and the other has barely left dry dock.
Despite Halprin's poor grip on the facts, I was more surprised by the assertion made in the latter half of his column:
The danger lies not solely in quantitative instabilities but in potential nuclear strategies that technical evolution has elevated above Cold War paradigms. It is one thing for a few experts to foresee these strategies but quite another to obtain from a people no longer confident of its right to self-defense the political consensus, appropriations and authority to counter them. Consider just one scenario, highlighted by the recent successful test of China's anti-satellite weapon, part of a strategy to exploit technological asymmetries.

Given China's appetites and our alliances and interests, a war is not inconceivable in Taiwan, or in Korea. To remove American nuclear escalation from the equation, China would need not parity but only a deterrent such as it has long possessed. The Chinese, however, whose nuclear thresholds are dissimilar to ours, would have other options.

They know that every facet of America's economy, military and society depends on individual and networked electronic devices. Were these to fail all at once and irreparably, the nation would seize up, perhaps for years.

Faced with victory, or with loss, they might choose to -- and who would venture to guarantee that they would not? -- detonate half a dozen high-megatonnage nuclear charges in the mesosphere, in an electro-magnetic pulse (EMP) strike perhaps not even in American airspace, cooking almost every circuit and semiconductor, rendering the American government blind, deaf and dumber than it is already and the country unable to resist the inroads that would surely follow.

Though we would undoubtedly respond in kind, China is not as technically dependent as are we. Nor, given China's sufficiency for a counterstrike, could we deter an EMP attack with the prospect of massive retaliation, especially because an EMP strike, with no immediate casualties, would seem as peaceful as snow in still air.
I don't buy his argument on the threat of a nuclear EMP attack from China. The Defense Support Program would catch the launch from space and the U.S. would be doctrinally-bound to launch a counterstrike against China before their missiles detonated. There would be no waiting to see if the Chinese only intend to pull of a EMP attack in the upper atmosphere versus an air burst attack a few hundred feet about Los Angles. There would simply be immediate and overwhelming retaliation on the part of the U.S.
The trick in nuclear strategy is to maintain stability by balancing potentials and thus to discourage events from converting the hypothetical to the actual. Required in this case -- only one of many -- is the electronic hardening, redundancy and redesign of essential systems and networks; and missile defense, which would not only close the first-strike window by shielding our second-strike capacity from destruction but protect against an EMP strike directly and dissuade China in the first place by making its deterrent less certain.

Were we to proceed along these lines, we could diminish the chances that China might in the not-so-distant future be tempted to win a nuclear war without fighting a nuclear war. But given that we have ignored explicit warnings of the congressionally chartered EMP commission, what are the chances that we will act on an opinion we dare not even form? In regard to war and the sometimes counterintuitive actions for avoiding it, we are no longer either confident or clearsighted. What a pity to have come so far to find that our rivals and enemies all over the world can run rings around us because half of our politicians have lost their intelligence and the other half have lost their nerve.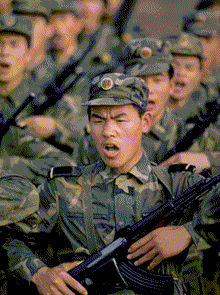 If I am reading this right, Halprin has essentially argued that Chinese leaders will escalate a conventional shooting war with the U.S. to the nuclear level out of desperation. Whatever happened to the cold rationality of deterrence and mutually assured destruction? Are we back those dark days of the Cold War where policy elites debated the efficacy of deterrence because we believed that our adversaries were slaves to their an irrational ideology? I hate to sound cynical, but Mark Halprin's piece isn't the first aspirant to George Keenan's Long Telegram I've seen in the last five years and, unfortunately, it probably won't be the last.
Isn't it interesting how nuclear paranoids like Mr. Helprin, force planners at the Pentagon and Democrats in Congress can look at the same subject, but see three complete different threats? It makes one think that public hand-wringing about the 'China threat' might be a self serving exercise...
But then again, I'm just an lowly East Asia analyst. What do I know about nuclear strategy or China, right?